Pasco Senior High School


1964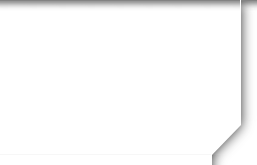 In Memory
David Bruner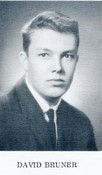 Transformation
An interview with David's sister, Linda (Bruner) Smith on June 6, 2010
by Allen Johnson
Directly after high school graduation, David Bruner joined the US Army. While on tour in Viet Nam, he acted as a court reporter. He was given an honorable discharge at the end of his four-year military experience.
David returned to Pasco and attended Columbia Basin Community College for two years. It was then that he made his way to Seattle, where he worked as a supervisor for REI clothing manufacturing. He was with REI for five years, but REI over ethical concerns regarding the treatment of immigrant workers. It was something he talked about often; in the end, he could not reconcile his participation within the REI system.
He went on to Boeing where he worked as a buyer in the purchasing department. He was there until his death by a heart attack on November 6, 1992.
David's sister, Linda, described her brother as "a kind and sensitive person. His feelings could be hurt. He was also intelligent; he clearly had a high IQ."
There was another side of David that may be surprising to many. When David left the army, he was in topnotch physical shape. It was indeed a transformation. He had lost 20 pounds and kept it off. He was an avid cyclist and jogger. "He was very handsome," Linda said. "And he was a ladies' man. The women liked him, and he liked them. There were several at his memorial service."
When asked to sum up her brother's life in a sentence or two, Linda said, "David had a good life, and he raised a good son. He always did the best he could with the resources he was given."
David was very close to his mother, Geraldine Bruner; he never quite got over her death in 1968. David is survived by his son, Jared Monesmith, who was born in 1983, and his sister Linda (Bruner) Smith, who graduated from Pasco High School in 1963.
Tribute from Roger Grisham
David and I were best friends, beginning in 5th grade at Emerson Elementary. In fact, he was the best man at my wedding. Two people could not be any closer.
David was a man who I could trust 100%. We would share our deepest thoughts and know that what we shared would be held in absolute confidence.
His death hit me very hard. In fact, I was the one who found him at his home on Green Lake in Seattle (on that Saturday morning I was going to help him move to Everett). I can still remember that day as if it happened yesterday. I was devastated.
If I could speak to David today, we would have a whole lot of catching up to do. There is so much I would love to tell him. He has left a great void in my life; a life-long friend like David is very rare and very precious. Not a few days goes by without my thinking of him. He is missed more than anyone can imagine.